2020 brought the age of virtual to the event and exhibitions industry, with a restriction on social gatherings, Exhibitors had to quickly adapt to the new normal and find new ways to reach their audience. Virtual event companies came to the rescue with a wide range of experiences and functionalities that can be employed to interact with a wider audience over a Virtual Exhibition Platform. Many new entrants entered the virtual events domain, and some of them are set to become game-changers in the near future. While hosting an online exhibit, it is essential to choose a platform that allows functionalities for networking and engagement.
Top 5 Virtual Exhibition Platforms in 2024
Considering varied factors like dependability, ease of customization, and unique features, we list down 5 best platforms for your next virtual exhibit
Xporium
India's first Virtual Exhibition Platform, founded in 2017, this virtual events platform offers 2D, 3D, and VR solutions to create an immersive virtual event experience. Their 3D Virtual Exhibition Platform is immersive and innovative, attendees are assigned a virtual avatar that can be used to walk through the halls, explore the exhibition booths, and partake in live webinars.
Attendees can also download catalogs and other content, all functionalities for networking are easy to access, and the simplified user interface is also a key differentiator.
This virtual events platform also offers e-commerce integration which allows visitors to shop for the products on display.
Dreamcast
Dreamcast is one of India's leading Virtual Exhibition Platform, initially a live webcasting and streaming service, this virtual events platform has upgraded over the years to become a full-fledged virtual events platform, the number of events done on the Dreamcast platform have multiplied since the lockdown.
They offer all networking functionalities like real-time chat, video calling, and WhatsApp integration, The systematic agendas and briefcase functionality for documents also further enhance the user experience.
It's a robust platform that is capable of hosting any and all kinds of virtual events, one way, two-way, or group interactions are also simplified in their communication interface which Makes it perfect for virtual exhibits.
Expoburg
Expoburg is a straightforward, simplified virtual events platform, you cannot recreate the visual appeal or aesthetics of a live event, but if you are looking for a basic interface with robust networking functionalities, Expoburg is the right fit for you.
This virtual events platform allows exhibitors to list their products along with documents, pictures, or videos related to their products in an industry-wise category.
The networking functionalities are also pretty straightforward and easy to navigate, which is what some industries require for their exhibits. A key differentiator for this virtual events company is that they extend their offering to run tailor-made marketing campaigns for your event in print and digital media
Platoo
Platoo is a new entrant to the virtual events segment and is one of the virtual event companies that is set to be a game-changer in the industry. The key differentiator of this virtual events platform is that it allows agencies or marketeers to take complete charge of their own virtual event experiences, you don't need to have any prior coding or web development background to run events on Platoo.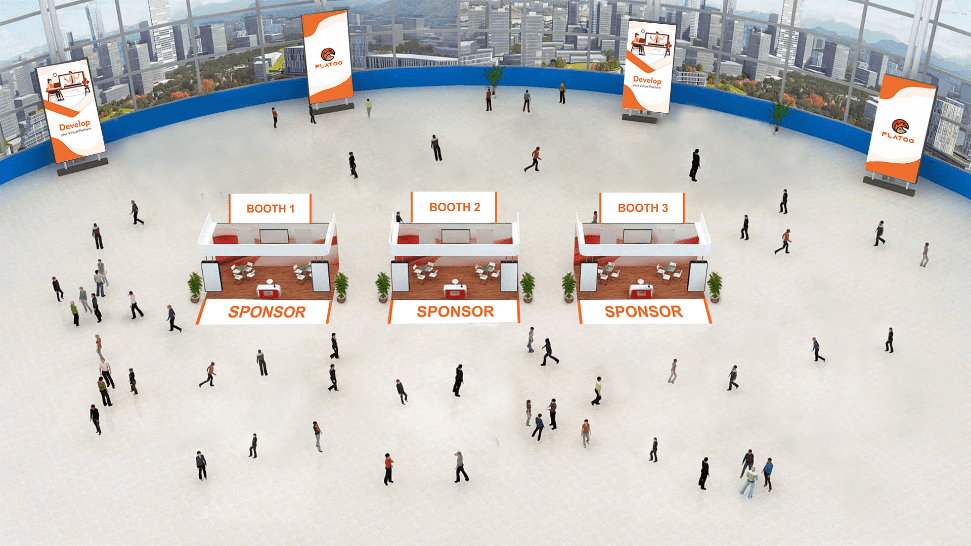 The simplicity of the user interface, both for the admin portal and the attendees, makes the entire experience user-friendly and effective in terms of time and cost.
With Platoo, you can choose on which servers your event data is stored, if the security and confidentiality of your user base is imperative, this virtual events platform can be deployed on servers with any level of encryption or added security protocols that you may require. There is no limit to design or customization, you can create immersive 2D and hybrid experiences with this platform that gives you the best of both worlds along with an honest pricing structure.
Detailed analytics can be sourced to track user flow and data of all visitors in terms of the number of visitors to each stall and time spent in interacting with the functionalities. External payment links or product links can also be incorporated to the platform to facilitate e-commerce for the exhibitors.
This is a web-based platform that is responsive and works seamlessly on all computer and mobile devices which makes it one of the best virtual event platforms for full-scale events. For exhibits that require a high number of exhibition booths or a high inflow of attendees as Platoo also deploys load balancers and backup servers. The Avengers upgrade from Platoo will have an in-house solution for networking turning it into a one-stop solution to understand and take control of all things virtual.
Blues N Coppers
Another new addition to the list of virtual event companies, this virtual events platform offers 360-degree experiences for your virtual booths, real-time attendee reports, and interactive live sessions, making engaging with your audience effective.
A key differentiator for this virtual events platform is the fact that it can be hosted on your site as well. They are constantly coming up with updates and developments that build on existing functionality.