Bridal lehengas are the most significant part of your special day and are a great way to express your style and personality. Gone are the days when red ruled the world of bridal lehengas as the modern brides experiment with unconventional colours setting up 2023 bridal trends. The latest trending wedding dress is in shades of blue, pink, lavender, and metallic gold and silver.
But which colour is best for a lehenga? You can pick up your custom lehenga colour and combination in any shade. Choose what makes you happy. In the end, the memories of this timeless lehenga will stay with you throughout your life.
Unique Bridal Lehenga Colours That Are Trending This Year 2023
Don't know how to choose bridal lehenga colour? Here are some bridal lehenga colours that will help you solve the problem:
Bright Blue
A trending colour for bridal lehengas these days is blue. Not only is it unconventional, but it can also make you stand out. Blue is a very offbeat colour, and there are many shades that you can experiment with, like navy blue, teal, blue-grey, icy blue, steel blue, etc.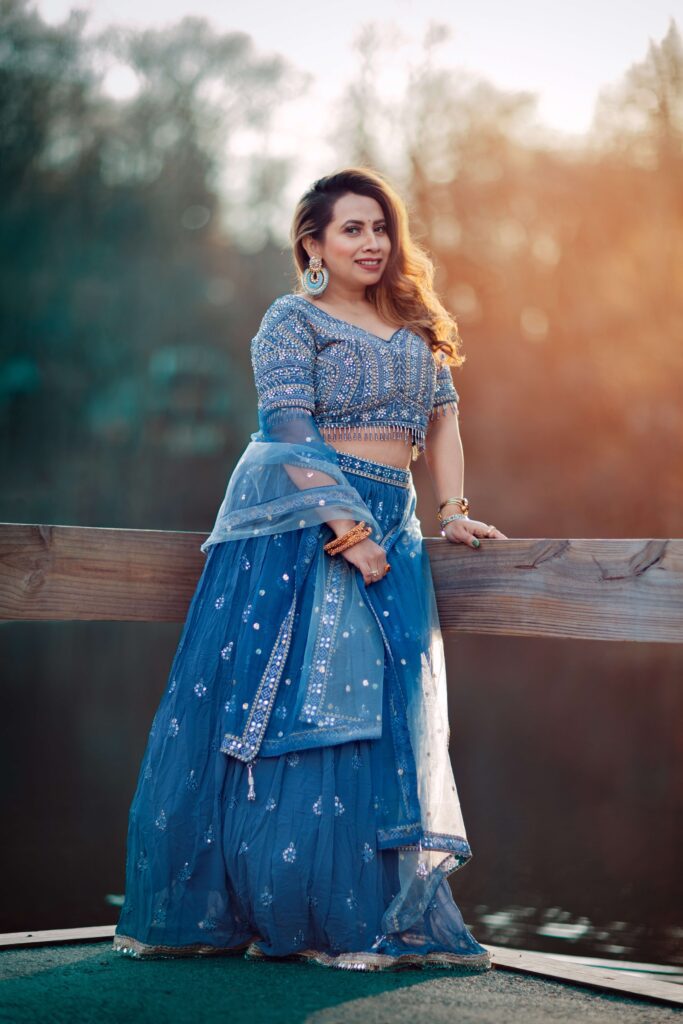 Splendid Yellow
If you are a bride looking for a colour that will add a pop of sunshine to your lehenga, splendid yellow is a perfect choice. Whether worn in a colour combination or a pastel yellow lehenga for a sophisticated and modern look, yellow is a multifaceted colour that'll help you achieve that unique wedding look.
Lovely Lavender
Are you hunting for unique bridal lehenga colours that will give you an exquisite and dainty look? Then, lovely lavender is your go-to colour, representing grace, calmness, and a touch of serenity and elegance. Hues of purple are bringing a change as they are dominating the world of bridal lehengas.
Shimmery Green
Green is an evergreen colour that can help you pull off a versatile look on your wedding day. Nowadays, olive, teal, emerald, and dark green hues are trending. Whether it's pale green, giving off a refreshing air, or a heavy lehenga with an intricate design, almost everything complements this colour. So, don't be scared to experiment while hunting for your dream lehenga in green and set up the latest trend in lehenga.
Ivory
This timeless colour is the latest colour for bridal lehenga in trend. Bollywood celebrities like Alia Bhat and Sonam Kapoor have rocked this colour during their wedding celebrations. Ivory-coloured lehengas are an ideal choice if you are searching bridal lehenga with different colour with a hint of royalty and aristocratic vibe.
Hot Pink
Undoubtedly, pink is one of the most commonly seen colours in bridal lehengas after red. But among the pink spectrum, hot pink is slightly underrated. If you are someone who loves dark and deep colours that set off a statement, then hot pink is what you should go with.
Technicolour
Technicolour is an unusual and surrealistic colour in trendy bridal lehenga. Technicolour is the colour that was seen back in the 90s of television. Retro, quirky, and dynamic — if these words go with your bridal lehenga vision, then technicolour lehenga is the most suitable option. This will help you join the latest trend and give you nostalgia if you're a 90s kid.
Best Lehenga Colour Combination That Makes Brides Stand Out Of The Crowd
Below are some best lehenga colours for weddings:
● Turquoise and Rose Gold
● Icy Blue and Pale Pink
● Ivory and Teal Green
● Off-white and Peach
● Burnt Orange and Hot Pink
● Magenta and Gold
We hope your hunt for the best lehenga colour combination ends now, and you have found the perfect one!
looking for more guidance and tips? Do check out this Youtube Channel –  Girls Buzz